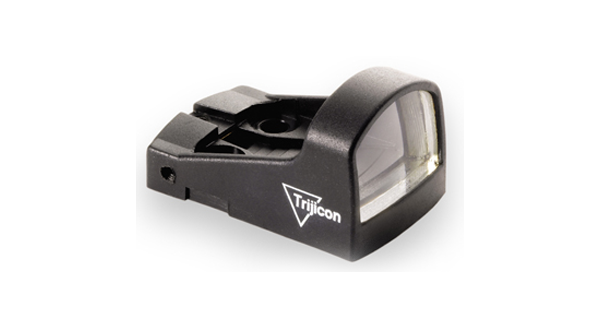 Λεπτομέρειες
Industry's First Lifetime Warranty on a Reflex-Style Red-Dot Sight
Trijicon is proud to announce its newest product – the Trijicon RedDot Sight.
Backed with a full lifetime warranty, this new sight is a reflex-style red dot with applications for all types of hunting and shooting. The versatile Trijicon RedDot is right on target for handguns, carbines, rifles and shotguns and can also be teamed up with the famous Trijicon ACOG? for the ultimate in fast target acquisition or precision aiming at extended distances. Mounting kits are available for mounting to most ACOG models. The innovative Trijicon RedDot enhances the shooter's capabilities, regardless of the style or caliber of weapon used – the «point and shoot» characteristics make this sight the natural selection when fast target acquisition is required.
The Trijicon RedDot is fully adjustable for windage and elevation. A lithium CR 2032 battery powers the 8 MOA red dot – with a dark storage battery life of approximately 35,000 hours. Its lightweight (.5 oz) and compact (1″ wide x 1.7″ long x.9″ high) and all accessories are provided – snap on cover, (which prolongs battery life) mini-dial and Allen wrench are provided with the system. The Trijicon RedDot sight uses a hardened polymer, resulting in a sight far more durable than other red dot sights – an important factor when second place is simply not an option.
The tradition of quality for which Trijicon has been known for more than 25 years is now available in the new Trijicon RedDot sight.
To learn more about the RedDot, click the link to see the FirePowerTV ShotShow07 Trijicon Interview on YouTube.com.